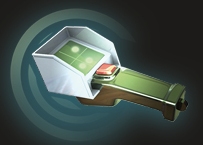 In-Game Description
Edit
"A wonderful hi-tech toy that employs radar to reveal the position of enemies and mines. A must-have for those who don't like surprises..."
Having a range of 15 meters you need to be pretty close to the enemy, wich usually happens to players using close range weaponry.
It just needs to be equipped in one item slot and when an enemy approaches it makes a coloured dot on the map. It does not need to be activated.
Ad blocker interference detected!
Wikia is a free-to-use site that makes money from advertising. We have a modified experience for viewers using ad blockers

Wikia is not accessible if you've made further modifications. Remove the custom ad blocker rule(s) and the page will load as expected.