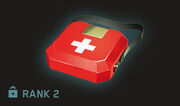 Medikit Mk1
Edit
Healrate

5

Duration

90

Inventory

1
Even a veteran can scrape up his knee during action. This pocket medical kit for those more difficult situations will get you (and your teammates, too!) back on your feet. Now available in refreshing menthol scent!
Medkits are objects that have to be placed wisely, because It takes some time to replenish your health, but If you are sniping against other sniper It becomes really useful to place it near yourself.
Ad blocker interference detected!
Wikia is a free-to-use site that makes money from advertising. We have a modified experience for viewers using ad blockers

Wikia is not accessible if you've made further modifications. Remove the custom ad blocker rule(s) and the page will load as expected.